Whew. Ok, we're all home, some of us for the first time in a LONG time, and finally want to get around bringing y'all up to speed with what's going on with us.
First of all, we want to and must thank way too many people for helping us out with our summer tour. Much like last year when we went out for a month (we played about 31 sets this trip in just about as many days!), there are just too many people to list here. But please know that the love you've shown us got us through this tour, which was a blast of course, but also very trying for us. We've been pretty spoiled on tours thus far, and we finally got ours on this one.
Seriously.
Between gear getting yanked, shows falling through, sickness, unbelievable heat, buying transmissions (OUCH), getting denied at customs, and being away from loved ones for such a long time, we had to work at this one harder than any previous tour. And that was certainly made easier with the help of too many amazing people...and so, thank you, and much love. And, we're glad to say that the three of us went out alone, got out in the middle of nowhere in the heat, had a bunch of bad shit happen (along with the good), and came back as friends and band mates. So, to the other guys, thanks fer being patient ;)
Now. We're back home. Lets get busy. We're going to take the coming month off to write and rest, and get our record, 'That Ghost Is Always With Me' out. We, along with our bud Kris over at Ice Age Records, are holding ourselves to an October 1st release. Watch out, this WILL happen. You can now stream the entire album over at www.theiceageiscoming.net and can preorder it as well. Once out, look for a release party in Chicago. Dang.
Then, while this fall probably won't hold any extensive touring for us, we for sure will be playing out on the record as much as possible. Look for lots of weekends around the midwest, and perhaps a short trip come November. We have too much fun coming to see everybody, and can't wait to get back out there. Beyond that, we're already thinking about what the next year might hold, and thinking about new music. Keep yer eyes peeled, and we'll keep you posted. We now have a Facebook (meh), friend us, and we'll let you know what's good. And take care, huh?
lub,
jerk mouth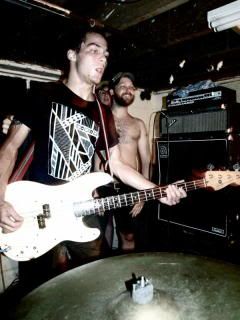 photos by Nathan Song at Castlefest.
Also, check out some photos by our boy DAVID SUMMERS